Shop > Hand Painted Prints > Coast
Print produced from an original hand painted Illustration by Rebecca Christian.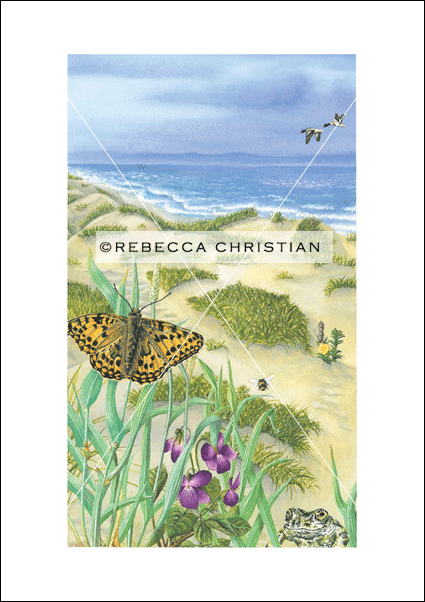 Coast Print
From £12, Free P&P
Description:
Coast – A unique and tranquil coastline illustration from an original hand painted illustration by ©Rebecca Christian using watercolour and gouache. The artist combined all the beauty of the natural surroundings to produce this painting.
Artwork includes: Shelducks, Dark Green Fritillary Butterfly, Evening Primrose, Common Dog Violet.
Each print is individually signed by the artist.
Available in 2 print sizes: 9″ x 7″ Mounted Print, A4 Print – No Mount (Signed to reverse)
Watermark shown on image will not be on printed item.
Information about the painting and artist to reverse.
Made to order – Please allow up to 10 working days for item to be made, signed and dispatched.
FREE UK postage & Packing, for non UK delivery please email: info@rebeccachristian.co.uk
If you would like a different size print contact us please let us know the title of the print.