Rimrose Valley article in the local Champion Newspaper: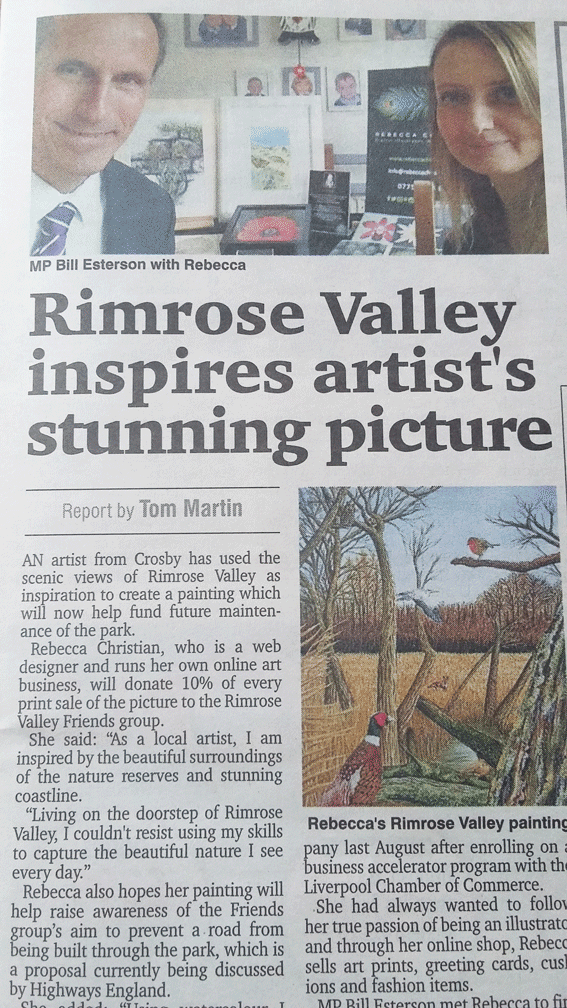 An artist from Crosby, Liverpool, has used the scenic views of Rimrose Valley as inspiration to create a painting which will now help fund future maintenance of the park.
Rebecca Christian, who is a web designer runs her own online art business, will donate 10% of every print sale of the picture to the Rimrose Valley Friends Group.
She said "As a local artist, I am inspired by the beautiful surroundings of the nature reserves and stunning coastline.
Living on the doorstep of Rimrose Valley, I couldn't resist using my skills to capture the beautiful nature I see every day".
Rebecca also hopes her painting will help raise awareness of the Friends group's aim to prevent a road from being built through the park, which is a proposal currently being discussed by Highways England.
She added "Using watercolour I have produced an artwork specifically celebrating the unique nature of Rimrose Valley wildlife, and will be donating 10% of every print sale to the Rimrose Valley Friends Group.
"This should help in their awareness campaign against the proposed road to be run through the valley space."
Rebecca started her on-line art business company last August after enrolling on a business accelerator program with the Liverpool Chamber of Commerce. She had always wanted to follow her true passion of being an illustrator and through her on-line shop, Rebecca sells art prints, greeting cards, cushions and fashion items.
MP Bill Esterson met Rebecca to find out more about her business and passion for art.
He said: "Rebecca's artwork is fantastic. It's wonderful to see a local artist gain inspiration from the beauty of their hometown.
"I wish her luck in her new business, and hope she receives the custom and support to back her hard work."
http://www.billesterson.org.uk/bill_esterson_mp_meets_with_campaigning_local_artist