Bespoke Pet Gifts
Commission Rebecca to create a bespoke, unique one of a kind piece especially for you or a loved one.
Bespoke Pet Gifts
Silk Scarves
♥ Commission a bespoke silk pet scarf using photographs of your cat, capturing a purr-fect moment with a touch of luxury.
♥ A unique wearable piece of art and keepsake to wear and treasure forever.
♥ Lightweight stunning 100% silk satin, suitable for wearing all year round. British manufactured.
Two sizes available:
Scarf: Length 158cm x width 28cm = £250
Shawl: Length 178cm x width 58cm = £295
(Shown in pictures.)
♥ Finely baby hem stitched.
♥ Dry clean recommended. Can also be hand washed with silk detergent.
♥ Beautifully presented in a gift box.
Darker background colours look best on this stunning satin fabric. One A5 sample fabric swatch is included prior to production of finished scarf. (International postage fees apply)
Can be created directly from photo reference provided or commission a pet portrait (see below) so artwork can be used on your unique one of a kind scarf.
Prices based on one pet. Additional pets can be added, please enquire.
Do you want to show your love, of your furry best friend in luxurious style?
To order send your photograph(s) to: info@rebeccachristian.co.uk
Designer Pet Scarf
This is the most amazing scarf, of which I am the proud owner. 
I asked Rebecca to design a scarf of my 2 cats Bruce and Scarlett. I have never had anything done like this before. It is stunning quality and the amount of work that went into producing my unique scarf is amazing! I am one very happy cat owner, thank you so much Rebecca.
Sharon
Pet Portraits
Each unique pet portrait is illustrated with pigment pastel pencils on Claire Fontaine paper ensuring high quality.
Paper size and colour can be chosen to suit the subject being drawn. For example 2 pets will look best landscape. Most popular size 24cm x 30cm.
Prices start from £395 depending on requirements. If you require more than one pet just let me know.
Attention to detail is key to my illustration style. Detailed reference needs to be provided the better the reference supplied the better the portrait will be.
A deposit of £100 will be required and you will be provided with postage cost with your initial quote.
Artwork is head/shoulder illustration, supplied unframed.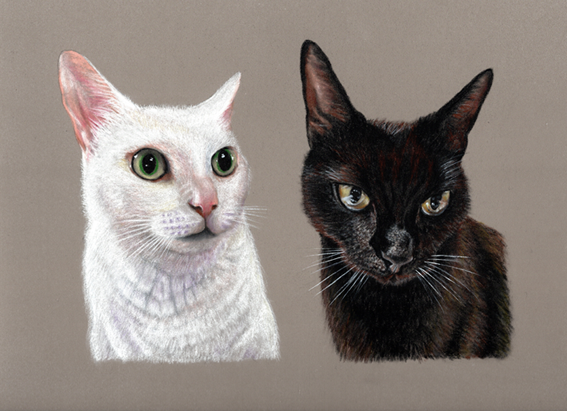 Rebecca Christian has a degree in scientific illustration and over 20 years experience of working in the design industry before becoming self employed. Imogen Christian age 17, Rebecca's daughter wants to follow in Mum's footsteps and become an artist. The horse illustration has recently been completed by Imogen.
To order and for further information please email:
Click here to view our selection of quirky cat greeting cards and art prints.